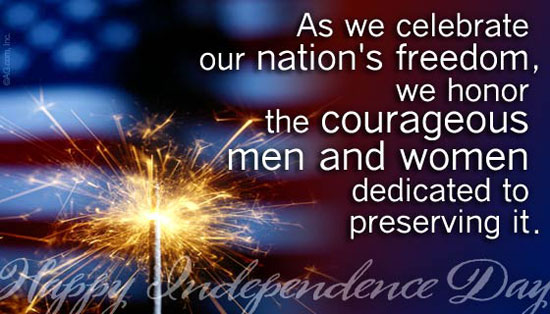 Today as we celebrate the 4th of July, we will honor those who
sacrificed for our great nation.
You will have 3 Hero WODs to choose from.
"Abbate"
Run 1 mile
155 pound Clean and jerk, 21 reps
Run 800 meters
155 pound Clean and jerk, 21 reps
Run 1 Mile
U.S. Marine Corps Sergeant Matthew T. Abbate, 26, of Honolulu, Hawaii, assigned to the 3rd Battalion, 5th Marine Regiment, 1st Marine Division, I Marine Expeditionary Force, based out of Camp Pendleton, California, was killed on December 2, 2010, while conducting combat operations in Helmand province, Afghanistan. He is survived by his wife Stacie Rigall, son Carson, mother Karen Binion, father Salvatore Abbate, and siblings Dominica Abbate, Elliot Abbate, Valerie Binion, and Kelly Binion.
"Daniel"
50 Pull-ups
400 meter run
95 pound Thruster, 21 reps
800 meter run
95 pound Thruster, 21 reps
400 meter run
50 Pull-ups
With heavy hearts we dedicate this workout to Army Sgt 1st Class Daniel Crabtree who was killed in Al Kut, Iraq on Thursday June 8th. To Daniel's family and friends, we express our sorrow; to his wife Kathy and daughter Mallory, we tearfully acknowledge your loss as the true cost of freedom. Fair Winds, Daniel.
"Morrison"
50-40-30-20 and 10 rep rounds of:
Wall ball shots, 20 pound ball
Box jump, 24 inch box
Kettlebell swings, 1.5 pood
U.S. Army Specialist Scott Morrison, 23, of Blue Ash, Ohio, assigned to 584th Mobility Augmentation Company, 20th Engineer Battalion, 36th Engineer Brigade, based out of Fort Hood, Texas, died on September 26, 2010, from injuries suffered on September 25 when insurgents in Kandahar, Afghanistan attacked his vehicle with an improvised explosive device. He is survived by his father Donald, mother Susan, brother Gary, and sister Katie.